Save time and easily complete your continuing education
As an approved Continuing Education Provider, Think Design Ed provides

online, self-study, continuing education courses for licensed Title Insurance Producers and Title Insurance Producer Independent Contractors

.
Complete Your CE From Anywhere...
Finding time to complete your continuing
education can be difficult.

Get a clear path to save time and complete your continuing education when and where it's convenient for you. Take the stress-free way to...

Go at your own pace
Complete on your computer, mobile device, or tablet
Get additional resources for your success
Approved Continuing Education for
Maryland and Virginia
Credit Reporting
We understand the importance of getting your credits processed fast. Your credits will be reported within 10 days or less.
Printable Certificates
Think Design Ed Academy provides you with online 24/7 access to your course progress and history. After completing a course and exam, you may print your certificate of completion at any time.
Easy Learning Platform
Learn when it is convenient for you. Our course technology provides you with the flexibility to learn online to fit your busy life. Staying modern means courses that fit your lifestyle. No more 2 hour Zoom meetings to get your credits!
Years of Title Insurance Experience
Maryland Continuing Education Courses
Click on the course thumbnail below to learn more about each course.
Virginia Continuing Education Courses
Click on the course thumbnail below to learn more about each course.
Special Group Pricing Available
For organizations with 5 or more participants, contact us for more information on group pricing.
Frequently Asked Questions for Continuing Education
To access the learning platform, use your login credentials, or create an account. Watch the videos (or read the materials), the system will automatically take you to the exam when you have completed the course. Take the exam and earn your certificate. You must provide your Maryland Title Producer License number if you want CE credit. We will report your credits within 10 calendar days of course completion.
To complete the course you will need a computer or tablet with the latest browser. Complete anytime, anywhere on your computer , tablet, or mobile.
Continuing Education (CE) Requirements
The continuing education requirements for licensed Title Producers and Title Insurance Producers and Independent Contractors is 16 hours. This must consist of 13 hours for Title and 3 hours for Ethics.
Under this policy, you may cancel your purchase of the course within 7 calendar days, we will refund you for all payments made as a part of your purchase within 14 calendar days from the day we accept that you are entitled to a refund. Courses that are on sale cannot be refunded.
The same means of payment you used for the purchase will be used, and you will not incur any fees for such reimbursement. Individuals will receive a full refund of course fees due to cancellation by the sponsor. The request must be sent via email from the email address used to register on our website www.thinkdesign-ed.com to buy the course. Please email refund requests to info@thinkdesign-ed.com. Please state the date of purchase, name of the course and purchase receipt details like transaction ID in the email.
Do you have more questions? Use our Live Chat!
Don't Go Yet!
You'll be missing out on the great course below & staying compliant by getting your CE credits!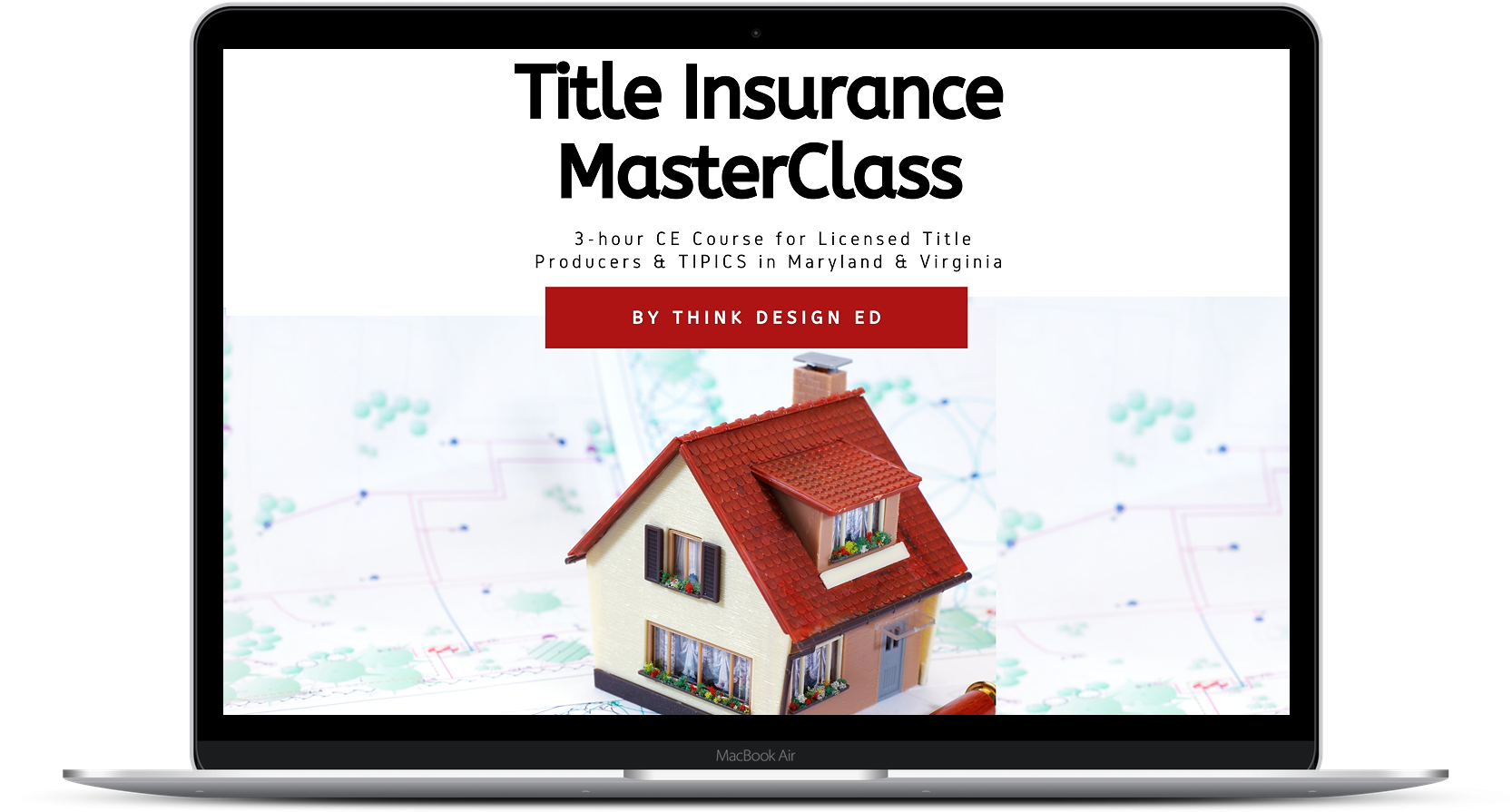 Created with